Changemakers is our annual celebration of the people who improve the lives of children in Nebraska and across the country. Each year, we'll bring in an inspirational speaker to discuss an issue related to child well-being. We'll also award our Children's Champion Award and provide an update on the work that's happening across the state. 
Changemakers 2016 | September 12, 11:30 am - 1 pm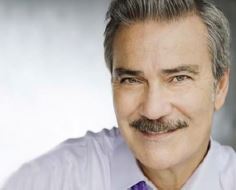 Join Nebraska Children at the Embassy Suites in La Vista. This year's keynote will be presented by Victor Rivas Rivers, who refers to himself as the man who was raised by the village. Victor is a veteran film actor, best-selling author, renowned advocate for violence prevention, and the first Cuban-born football player to land a tryout with the Miami Dolphins. Victor will share his own story of abuse and survival, and talk about the necessity for communities to structure themselves around the needs of children to prevent abuse and strengthen families.

The Changemakers luncheon will also feature recognition of a few Nebraskans who have made a tremendous impact as advocates for children.

Emcee: Jeremy Maskel, KETV Omaha

$75 for general ticket
$100 for general ticket plus a copy of Victor's bestselling book, "A Private Family Matter"
$750/table (10 to table)
$1000/table plus a copy of Victor's bestselling book for each person at the table
Click here for sponsorship opportunities.

Open seating for all individual ticket holders. Tables will be reserved for those who purchase tables.
Because of you, young people across Nebraska are able to find supportive "villages" of their own that help them reach their full potential. Now, you have the chance to honor a special person who was part of your own village—whether it's a teacher, coach, friend, or family member. For every $50 or more you give to Nebraska Children and Families Foundation, you can pay tribute to the important people who helped you become who you are today. 
The tributes will be displayed at Changemakers on September 12 and included in the October issue of Spout.
This form stopped accepting submissions on September 12, 2016 11:30 am CDT.